Demonstrators Turlock Rock and Gem Show
March 9th & 10th, 2019
Turlock Fairgrounds 900 N Broadway
Have you ever wondered how all those lovely pieces of jewelry and art are made? You will be amazed at how easy they are to make. Come and see how it is done! You will find our Jewelry & Lapidary Class Instructors and students in the demonstration area throughout the show. They will be available if you have any questions or would like to know about the classes.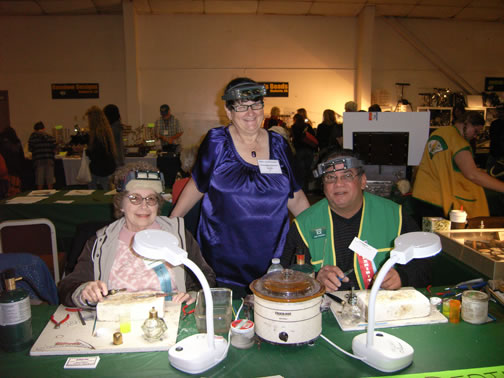 Special Guest Demonstrator: Jack Hoque
Jack Hoque is a 27 year old fulltime artist who lives in southern Oregon. Jack specializes in lapidary, metal work and stone carving. Some of his more noteable work is the glyptic art of reverse intaglio (pronounced in-tah-leo). Some of his work involves him carving one of a kind 3 dimensional images onto the back of natural polished quartz crystals he buys direct during the gem shows in Tucson, Arizona and Denver, Colorado. Jack hopes to only bring quality and unique art to his followers, and is constantly learning and evolving in his skills.
Some pictures of demonstrators from past shows
Watch and learn how to gold pan!
Jim Hutchings is our MINERAL ID Expert, if you have a rock, fossil or mineral you would like to know what it is, bring it to Jim to identify!