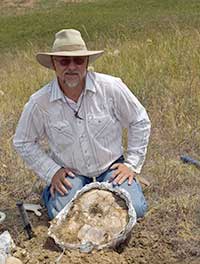 Neal L. Larson
We called her Sue
Neal L. Larson is a self-employed geologist/paleontologist who has collected fossils for nearly all of his life. He has been involved in many different Tyrannosaurus rex digs including Sue (1990), Stan (1990), Duffy (1993), Steven (1994), Fox (1996), E.D. Cope (1998), Bucky (2001-02), Wyrex (2004), and Darwin (2013-14). He has also helped dig and restore many other major dinosaur finds including Kelsey and Lane Triceratops, a Stegosaurus, a Camarasaurus, an Apatosaurus, a Diplodocus, more than 10 duckbilled skeletons and hundreds to thousands of other incredible fossil discoveries.
Neal was very involved with the collection of the world's most complete T. rex skeleton Sue in 1990 that later became the subject of a large legal battle for ownership between the US government, the Cheyenne River Tribe, the landowner and the people who found and excavated it. His talk on ?? will center on the discovery, excavation, preparation and the ensuing conflict regarding the ownership and eventual disposition of that dinosaur. This conflict almost resulted in the imprisonment of all of those who saved this fossil for science. A major documentary – Dinosaur 13 – was released in 2013 by Lion's Gate regarding this heartbreaking story. Neal will relate to you photos, passion and life after Sue.
Neal, with son Luke and wife Brenda, currently operates Larson Paleontology Unlimited a fossil/earth science preparation, conservation and consultation company that helps and advises amateur and professional collectors as well as museums. Neal uses his experience to advise individuals, corporations, non-profits and others how to identify, develop, preserve, curate, display and purchase or sell their fossil resources. He is also a scientist who has described and co-described more than one dozen new species, two new genera, two new families and a new suborder of fossils with many more in the works.