Special Exhibits! Turlock Rock and Gem Show
March 10th & 11th, 2018
Turlock Fairgrounds 900 N Broadway
The Tethys Ocean Project
Ancient Sea Monsters Exhibit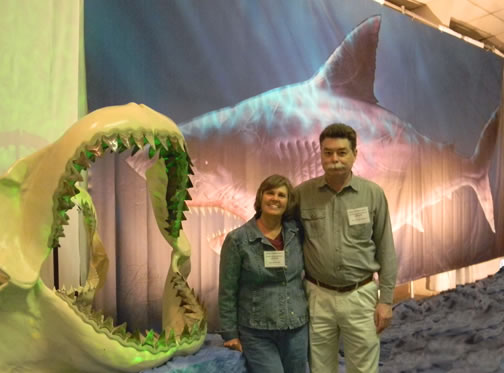 We are happy to have The Tethys Ocean Project return for the 12th year with a new exciting exhibit featuring Tridacna, a long extinct ammonite measuring over 3 feet wide. Also on display will be the kids favorite shark, Megladon, one of the largest sharks to have haunted prehistoric oceans.
The Schaffert family will be on hand throughout the show to chat with visitors and share their passion for marine fossils.
MLMS would like to extend an enormous THANK YOU! to Dr. Alan and Cris Schaffert for providing this special exhibit for our guests.
---
New to the 2017 Tethys Ocean Project exhibit is Tridacna, the largest ammonite found in the Americas, measuring over 5 feet.
Half scale painting of Megladon, the largest shark to have hunted prehistoric oceans. The art work was done by Eric Schaffert, pictured with the mural that is on display at the show.
---
Below are some exhibits from Rob Sankovich